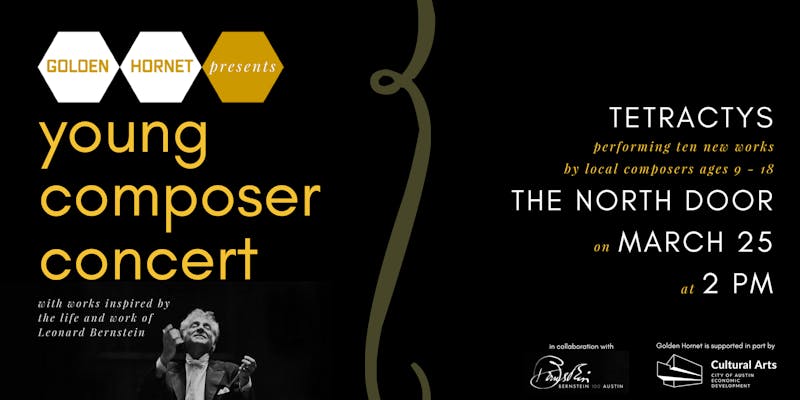 This weekend, on Sunday, March 25, at 2:00pm, at The North Door, Golden Hornet's 3rd Annual Young Composer Concert presents nine new works from Austin-area youth ranging between ages 9 and 18. Writing the new works under the guidance of professional mentors, each piece will be performed by Tetractys, with Matthew Armbruster (MM '16) and James Burch (DMA '16), in between brief interviews with the composers. It will include works inspired by the musical legacy of Leonard Bernstein, in collaboration with Bernstein100Austin.
In memory of young composer Draylen Mason, the concert will be dedicated in his honor. It will include vocal dedications from peers and mentors as well as a performance of his work "Hell Fire," which was composed for the concert last year, to create a space for reverence amidst the musical community in remembrance of his vibrant demeanor, undeniable talent, and endless potential.
Nine New Works by:
Ayden Machajewski
Fiona Gehrke
Helen Lundy
Melody Richards
Ian Shaw
Sel Hoxie
Katelyn Rodrigues
Cassidy Peña
Reese Niemitz
Golden Hornet is an Austin-based presenting and commissioning organization founded by composer/musician/bandleaders Graham Reynolds and Peter Stopschinski. Since 1999 GHP has premiered over 60 new alt-classical works by more than 50 composers rooted in wildly different musical backgrounds. In 1999 the alt-classical movement barely existed. In 2014 it is thriving in cities around the world. Golden Hornet Project continues to be a vital member and leader of that global community and their commissions and productions strive to synchronize the rock club and the concert hall.
For venue, ticket and more information, visit
www.goldenhornet.org or
www.eventbrite.com.